THE MANUAL: Anson Calder Founder Turned a Bad Diagnosis into a Better Wallet and Bag Design
Posted on Mar 26, 2019
Anson Calder Founder Turned a Bad Diagnosis into a Better Wallet and Bag Design
Read the original article here.
In 2013, Curtis Calder was diagnosed with a condition called facioscapulohumeral muscular dystrophy (FSHD). Estimated to affect 1 million individuals worldwide, the condition gets its name from the progressive loss of all skeletal muscle, especially noticeable across the facial, shoulder, and upper arm muscles.
"It's a genetic, degenerative disease, and it took my wife, who is a nurse, to sort out that it was the same condition that afflicted my grandfather, who has been in a wheelchair for 30 years," says Calder. "The doctor told me to quit my desk job as an investment strategist and find a career where I could keep moving and be as active as possible."
And so he did. But not at first.
While Calder had never received any formal design training, he was a self-described design junky with a fondness for leather goods. Prior to his diagnosis, Calder worked in Switzerland where he gained an appreciation for the country's precise, intelligent design. Later, living in a typically tiny New York City apartment, he further cultivated his love for efficiency and well-organized space. It was in New York, before his diagnosis, that Calder's one-time wallet wore out and, unsatisfied with all the offerings on the market, Calder created a prototype wallet of his own design from paper and packing tape.
"I brought it home to my wife, Allison, thinking it would be a fun project," says Calder. "It wasn't until after my diagnosis that we finally remade it in leather."
Calder taught himself to sew and then began experimenting with designs until he ruined Allison's sewing machine while trying to sew leather.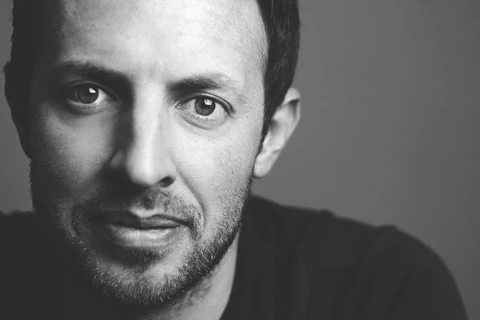 He eventually took the prototype to Bennett Liberty (a master craftsman in his own right with 50 years of experience making leather goods for brands like Coach, Ghurka, and Oscar de la Renta) where Liberty described Calder's design as a perfect marriage of engineering and fashion (which is fitting since Calder is the son of a fashion merchandiser and an aeronautical engineer).
What had started out as a hobby rapidly snowballed into a full-time gig. Calder began researching manufacturing options and eventually connected with a 500-year-old tannery for its superior leather treatments.
With designs, suppliers, and manufactures all aligned, in January 2015 Calder founded Anson Calder, which has since expanded to include not only wallets but a collection of simple bags with innovative construction and storage solutions. The brand's foundation rests on two signature leathers: a luxurious French calfskin and a sport leather with a slightly rubbery feel.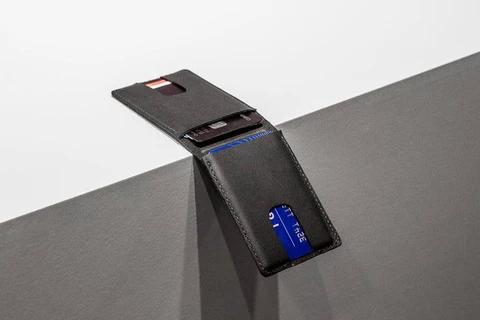 "It's treated with a patented coating that helps the leather withstand dings and scratches, giving each piece a distinct, durable texture that underscores its toughness. The coating also lets us offer a variety of vibrant colors that won't fade or darken over time. The calfskin comes in six colors, including black, and "FSHD" orange (part of a fundraising campaign for a not-for-profit), while the sport leather includes a bright green and vibrant blue.
Wallets from Anson Calder start with simple card holders that can carry up to 12 cards to more extensive billfolds, cash zipper wallets, a passport wallet, and more, all featuring the brand's unique sorting system — a patent-pending design of cut-outs on either side which makes it easier to sort through cards without completely removing them
The brand's bags range from a simple attaché to 13- and 15-inch laptop bags, weekenders, a backpack, and totes. Shoulder and internal straps can all be swapped out to accommodate different sizes and colors. The internal straps weave to the outside of the bag so they can either blend in or add a flash of color, but more importantly, they accommodate various "builds" for customization. By purchasing accessory components, including a laptop or document sleeve, battery charger case, and others (many of which function as standalone cases), each bag can be customized to the carrier's needs. A "Chicago screw" is a unique device that Anson Calder uses that is not exactly a snap, and not exactly a rivet, but that locks each piece in place as a smooth, flat fastener. Other objects placed in the bag won't catch on it, and it provides a sleek method of closure.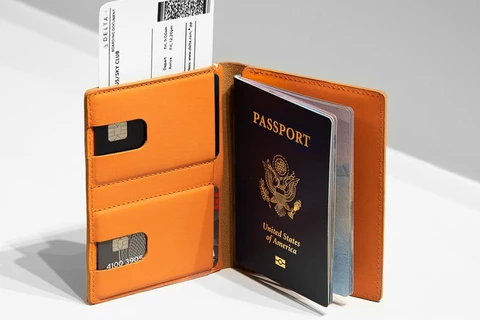 Many of the components were developed in collaboration with specific manufacturers when Calder realized that his clients were often carrying the same pieces. Cables can be stored in containers from GoTubb, battery pack sleeves were developed in conjunction with Mophie, a unique umbrella case — which can be stowed on the outside of the bag to prevent the contents from getting wet — was developed with Davek. The list goes on, from Moleskine notebooks to Sennheiser headphones and CW&T pens.
The brand's old-world craftsmanship, combined with its forward-thinking minimalist design reflects its values and an ongoing mix of the old and the new: Anson Calder is named both for Curtis's son as well as his great grandfather. His brother, Clint, also recently joined the company. Allison is now the director of the newly-formed Utah chapter of the FSH Society: A portion of the proceeds of every Anson Calder purchase is donated to the organization.
Share
1 comment