Our Belief
At Anson Calder we create everyday essentials with the belief that there's always a better way. A better way to work, travel, commute, and create. One that's simpler. One that's functional. One that adapts to meet every stage of your life and every moment of your day. Because we weren't born to stand still. Seeking out the new, the different, and the unexplored is in our DNA. Wherever you're going or whatever you're becoming, our essentials are designed to make getting there simpler, stylish, and more enjoyable.
We feel confident that if you live with our products for 100 days, you won't ever want to use another wallet, bag, or iPhone case ever again. If you do, just send ours back for free. See our Better Way Guarantee for details.
Part of our mission is to support the FSHD Society's vision to deliver treatments and a cure for FSH muscular dystrophy. Thank you for supporting those affected by FSHD through your purchase. Read more here: Giving Back.
Our Materials
Full Grain
We tested many leathers from all over the world and ultimately chose a full-grain calfskin from a tannery in France that has been perfecting its craft since the 16th century. Because it is full-grain calfskin, it is naturally strong and resilient yet supple.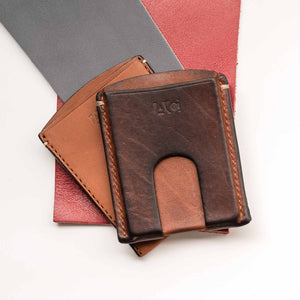 Rich Patina
The centuries-old tanning process used on our leather emits natural oils that promote self-healing. This means small nicks and scrapes will naturally smooth out and the leather will develop a rich patina over time —giving it character and intensified beauty.
Thread
In order to pair our strong leather with superior thread, we selected thread from Gutermann (est.1864) because of its resilience and resistance to abrasion.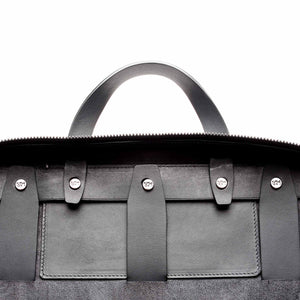 Hardware
Our custom hardware was specifically designed to have a thin profile and also features that would allow it to feel like it is permanently fixed to the bag yet be changeable for customization.